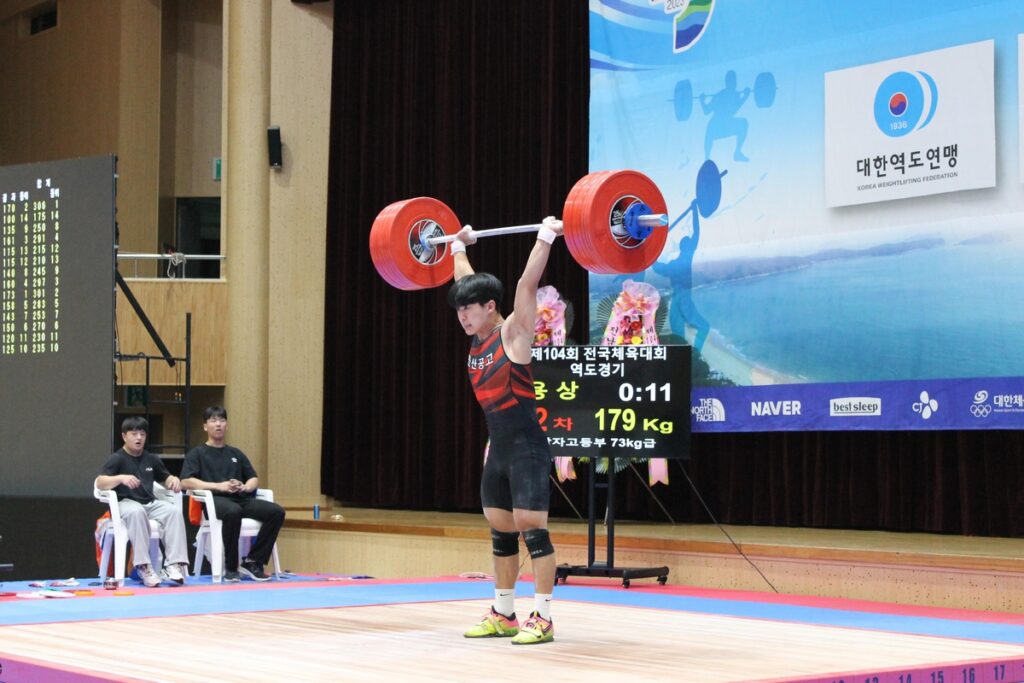 Kim Jong-min (18, Ansan Gonggo) set a new Korean student record in the men's 73 kg weightlifting total and jerk. Kim won the men's high school 73 kg weightlifting competition at the 104th National Sports Games (NGS) on Thursday at the Wando Farmers' Cultural and Sports Center in Wando, Jeollanam-do, South Jeolla Province, with a lift of 128 kg, a snatch of 179 kg and a total of 307 kg. Second-place finisher Jang Yoo-joon (18-Chungnam Cheongno) recorded 306 kilograms (136 kilograms in the lift and 170 kilograms in the snatch).
Kim finished fourth in the vault, but beat Jang by one kilogram in the all-important total, breaking his own Korean student record of 172 kilograms set in June of this year by seven kilograms .His 179 kilograms in the vault is also a Korean junior record, set by Shin in September 2020.Kim also set a new student record in the total, surpassing the previous Korean record in the men's 73kg category. The International Weightlifting Federation (IWF) created a new weight class system and announced world records starting from the World Weightlifting Championships in November 2018.
The Korean Weightlifting Federation also created a Korean Standard Record Table and set a combined student record of 305 kilograms in the men's 73 kilogram class .Both Kim Jong-min and Jang Yoo-joon surpassed 305 kilograms on the day, but Kim Jong-min, with 307 kilograms, beat Jang Yoo-joon, with 306 kilograms, to become the new Korean student record holder .In the weightlifting event, medals are awarded in the individual, team, and total 카지노사이트 categories. Kim won two gold medals, one in the standing and one in the total.