'Idoryu' Ohtani with one knife tucked in…no pitching for rest of season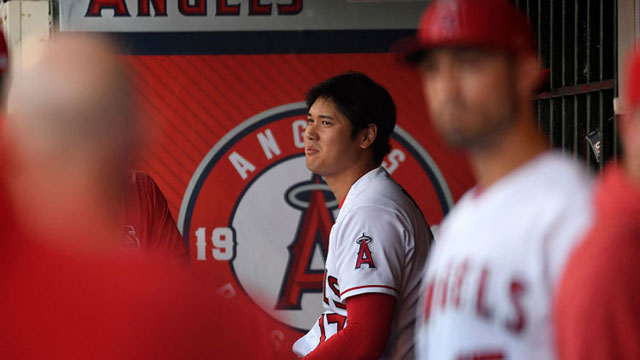 Shohei "Idoryu" Ohtani, 29, of the Los Angeles Angels of Anaheim, is putting one knife in a sheath for a while after making history in Major League Baseball (MLB) as both a pitcher and a hitter.
"Ohtani will miss the remainder of the season with elbow ligament damage," the Associated Press reported on Thursday, quoting Angels general manager Perry Minassian.
It has not yet been determined if Ohtani, who underwent right elbow ligament splicing (Tommy John) surgery in late 2018, will return to the operating table.
Ohtani started and batted second in the first game of the doubleheader against the Cincinnati Reds at Angel Stadium in Anaheim, California.
With one out in the second inning, Ohtani voluntarily left the game due to discomfort in his right arm.
His fastball, which has averaged up to 156 miles per hour this season, was down to 150 miles per hour on the day.
Ohtani, who lasted just four innings against the Seattle Mariners on April 4 due to finger cramps, has been sidelined by injury twice this month, including a voluntary trip to the disabled list.
Angels manager Phil Nevin said, "It's not like he was in pain. He just said, 'It just doesn't feel right,'" said Angels manager Phil Nevin, describing it as "the same thing he's been feeling for the last couple weeks."
Ohtani is eligible for free agency after this season.
The expectation is that he'll be a home run king and a Cy Young contender, and that he'll be at the top of his game on both sides of the plate, commanding astronomical contracts.
If Ohtani were to undergo elbow surgery, the size of his free agent contract would inevitably be affected.
At this point, it's unlikely we'll see Ohtani on the mound in an Angels uniform anytime soon, as his chances of staying with the Angels are slim.
As a hitter, however, Ohtani will continue to compete for the home run title.
The American League's home run leader hit his 44th home run of the season in the first inning of game one of the doubleheader, passing Matt Olson (Atlanta Braves-43) for the National League's home run lead.
He ended Game 1 as a pinch hitter when he went off the mound to have his elbow checked, but returned to the lineup in the second game of the series as the No. 2 designated hitter and went 1-for-5.
According to the Associated Press, "Ohtani appeared in 106 games as a designated hitter in 2019, his rehab season after undergoing elbow surgery. 카지노사이트킴 His pitching injury has rarely interfered with his hitting."