Traffic accident controversy ahead of AG, Hwang Sun-woo silently trains to focus attention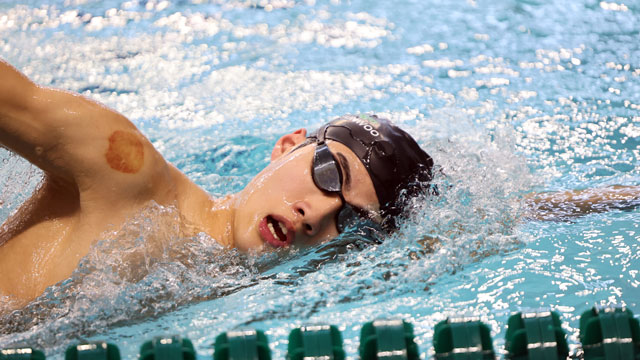 Two of the most anticipated individual athletes at the Hangzhou 2022 Asian Games are Woo Sang-hyuk (Yongin City Hall) in track and field and Hwang Sun-woo (Gangwon Provincial Office) in swimming.
They will have plenty of fans cheering them on as they look to qualify for the Hangzhou Asian Games as well as the Paris 2024 Olympic Games.
However, the two athletes, who are the two horsemen of the Korean team, were not present at the Asian Games D-30 media day at the Champion House at the Jincheon National Athletes' Village in Chungcheongbuk-do on Thursday.
Woo Sang-hyuk was in Budapest, Hungary, where the World Athletics Championships are taking place, and Hwang Sun-woo had his own reasons.
Hwang is currently in self-imposed exile. He is under police investigation after he fled the scene after hitting a pedestrian crossing the street with his rearview mirror while moving into the Jincheon National Athletes' Village on Nov. 13.
Hwang returned to the scene about 30 minutes after the incident and confessed to the police, but the KOC did not impose any disciplinary action as it was not considered a reason to disqualify him from the national team.
Hwang made amends by signing a compensation agreement with the victim.
Since then, he has been quietly training to reflect on his mistake.
He has refrained from outside activities and is training for the Hangzhou Asian Games.
He did not appear at the media day event, which was attended by the top athletes representing their respective sports, including Koo Bon-gil (fencing), Shin Yubin (table tennis), Jang Joon (taekwondo) and Kim Hyun-woo (wrestling).
Swimming was represented by Kim Woo-min (Gangwon Provincial Office), who is attempting to win four gold medals at the Games.
After the press conference, Hwang did not step in front of the microphone during the open training session at the Jincheon Athletes' Village Swimming Center.
Only Kim Woo-min and veteran Kim Seo-young (Gyeongbuk Provincial Office) answered questions from the media.
The swimming center was packed with media that day. Hwang Sun-woo didn't seem to mind the attention and continued to train with his usual cheerful expression.
After warming up, Hwang swam in lane 2, where he practiced various strokes including freestyle, breaststroke, backstroke, and butterfly.
The camera shutters were constantly clicking around him, but he didn't seem to mind.
With her focus on her training, Hwang hopes to win three gold medals in Hangzhou. In addition to her main event, the 200-meter freestyle, she will also try to win the 100-meter freestyle and the 800-meter freestyle relay.
Hwang won a silver medal in the 200-meter freestyle at the Budapest 2022 World Championships and a bronze in the 200-meter freestyle at the Fukuoka 2023 World 먹튀검증 Championships last month.